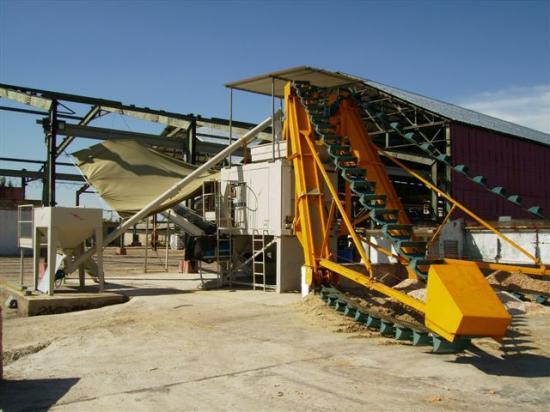 Installation pour petites et moyennes productions

• Système de mélange avec un malaxeur planétaire à régime forcé
• Fond et parois de la cuve en panneau anti-usure inter changeable
• Hélices en alliage spécial anti-usure Ny-hard CH3
• Ouverture déchargement au moyen de piston oléodynamique
• Trémie de pesage divisée en deux secteurs : un pour le ciment et un pour l'inerte, ouverture avec piston oléodynamique
• Vibrateur pour faciliter la descente des matériaux et système de pesage au moyen de cellules de chargement
• Système de chargement avec rayon racleur et longueur variable
• Protections sécurisées électromécanique avec carter et micron à accroc. Insertion de l'eau par temporisateur
• Flancs de rehaussement démontables
• Possibilité de montage d'un second rayon racleur
• Tableau de commandes en basse tension.

Champs d'activité:
Béton de toutes les qualités, pierre calcaire, produits en céramique, verre, matériaux réfractaires, plâtre, boue, crépi.

Les avantages:
déchargement haut qui élimine les coûts ajoutés à l'utilisateur (petits piliers en béton). Etudié pour le transport en container.
Serie COMPACT MCF

IB.RF 375.R

IB.RF 550.R

Béton rendu moelleux
l

300

450

Béton rendu vibré
l

250

375

PUISSANCE INSTALLEE
Malaxeur
kW

7,5

11

Centrale hydraulique
kW

2

2

Bras de raclage
kW

4

4

Il est important, au moment de la comparaison, d'établir le rendu vibré et compacté en coffrage par cycle.
| | | | |
| --- | --- | --- | --- |
| 1 | Rayon de raclage | 6 | Cône d'acheminement |
| 2 | Groupe de pesage | 7 | Cadran électrique |
| 3 | Malaxeur planétaire | 8 | Vis |
| 4 | Groupe de dosage à eau | 9 | Silo |
| 5 | Doseur de ciment | | |
Les données techniques sont indicatives et sujettes à des variations sans préavis de la part du constructeur.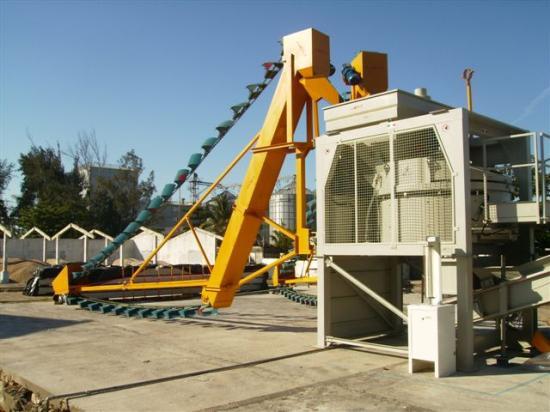 Plants for Small and Medium productions

• Mixing system with planetary mixer at forced speed
• Tank bottom and walls in interchangeable wear-resistant panels
• Blades in special wear-resistant alloy Ny-hard CH3
• Discharge opening by oil-dynamic piston
• Weighing hopper divided in two sectors: one for cement and one for inerts, opening by oil-dynamic piston
• Vibrator to ease fall of materials and weighing system by loading cells
• Loading system with scraping radius and variable length
• Electro-mechanical safety protections with carter and micron tear
• Water access by temporizer
• Dismountable side extensions
• Possibility of mounting a second scraping radius
• Low voltage console.

Fields of use:
ConcConcrete of all the qualities, gypsum stone, ceramic products, glass, refractories, chalk, mortar, plaster.

Advantages:
high unloading that eliminates additional costs to the user (concrete plinths). Designed for transport in container.
Serie COMPACT MCF

IB.RF 375.R


IB.RF 550.R

Soft concrete
l

300

450

Vibrated concrete
l

250

375

RATED POWER
Mixer
kW

7,5

11

Hydraulic command post
kW

2

2

Scraping arm
kW

4

4

It is important, for comparison reasons, to establish the supply vibrated and compacted in shuttering for cycle.
1

Scrapping radius

6

Conveyor chute

2

Weighing group

7

Control panel

3

Planetary mixer

8

Screw

4

Bathing water group

9

Silo

5

Cement batcher
The technical data are indicative and subject to variation without prior announcement by the manufacturer.